Step Sixteen:
.
Success Leaves Patterns
.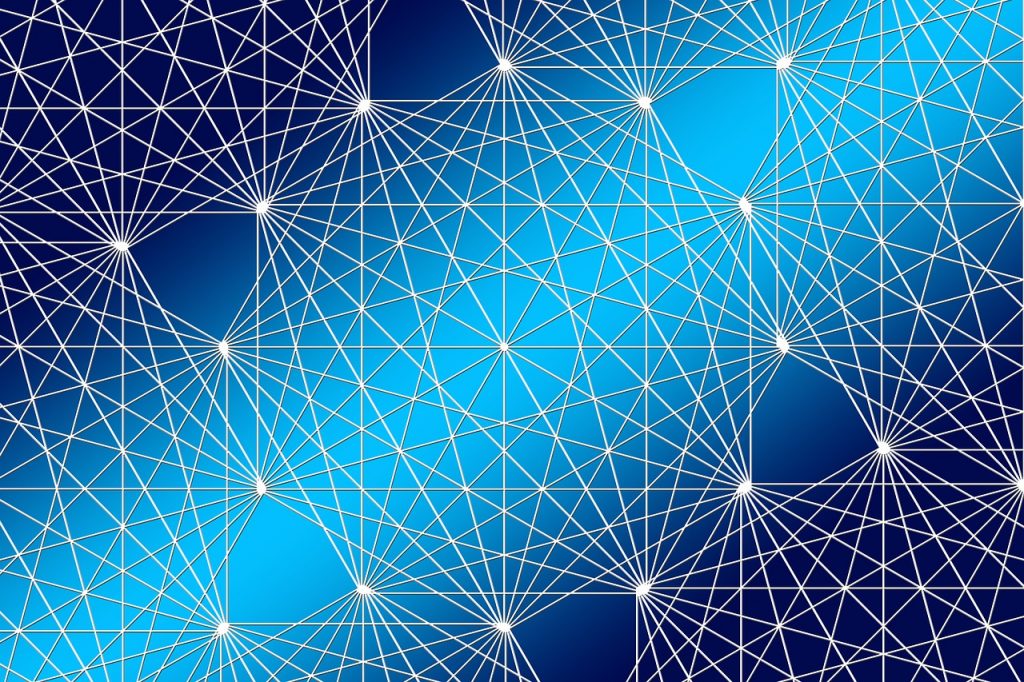 .
Taking the Steps To Six Figures. 
.
Before we begin let's review: 
.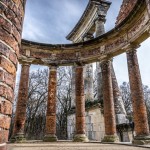 .
The Importance of
The 12 Pillars & SOGR in Your Life: 
.
Each of these Pillars are important to continue in your life. It's CRITICAL to work on these aspects each week in your life. For instance the Pillar about personal development is something you should be working on weekly.
Jeff Olsen in the book the Slight Edge put it something like this: To those who work on themselves a little each day over time eventually "outrun" most people.
Most people don't work consistently on improving themselves, so those who do will be so far advanced from their peers. This is the key to change. Like Jim Rohn says:  "if you want more, become more."
Pillar One: Personal Development. Increasing your value will increase your paycheck.
.
Pillar Two: Total Well Being: "Body Mind & Soul. Finding balance and the importance of developing all three.
.
Pillar Three: The Gift of Relationships.  Taking the time to pull the "weeds" and keep our relationships healthy.
.
Pillar Four: Achieve Your Goals. Written goals go a lot further to help you achieve your goals. Developing more influence (honesty and developing your skills) and making more money to achieve them.
.
Pillar Five: The Proper Use of Time. There is a difference between the important and the urgent. Most people spend their time on the urgent  things but never get around to the important. Write down your goals and a suggestion is to try to get the most important thing done in your day first.
.
Pillar Six: Surround Yourself with the Best people. You will probably be as wealthy and happy as the five closest people around you. Move away from those holding you back. You don't have to not be friends but consider spending less time with them. Build relationships with good people who you admire.
.
Pillar Seven: Be a Life Long Learner. 90% of millionaires believe in never ending self improvement. Reading or listening to a helpful book once a week is a good suggestion.
.
Pillar Eight: Life is Sales. Sales involves becoming a person of integrity and advanced skills. People will respect your integrity and your advanced understanding. If you learn influence and sales you can increase your paycheck times 3 in a year.
.
Pillar Nine: Income Seldom Exceeds Personal Developement.  People who read increase their value. People who increase their value increase how much they are paid. People with $250,000 houses most often have a library. This is not a coincidence. Begin increasing your value by reading The Twelve Pillars. By Jim Rohn.
.
Pillar Ten: Communication Brings the "Common Ground of Understanding". 
Everything we do involves working with other people. We can become more successful when we develop our communication skills. Listening to someone (often without trying to interject our own thoughts) is vital.
.
Pillar Eleven: "The World Can Always Use Another Great Leader." Leadership is all about having a clear vision, being able to have a plan to get there, the ability to communicate it effectively to your team and the action necessary to achieve it. Leaders genuinely care about others. "They are strong but not rude"
.
Pillar Twelve: Leave a Legacy. Life is short and often goes faster then we realize. We can't choose how long we live but we can choose how well we live. Live with meaning and help others by passing value on to others.
.
.
The Value of "SOGR" 
.
The "Science of Getting Rich" prescribes
doing Things "In a Certain Way."  
The difference between the successful person and the non successful person lies within doing things "in a certain way":
1) Creating the dream starts and ends with your mind. Your mind is actually the key to everything. Your mind has a crucial ongoing part to play in making the dream reality..
2) "Do everything in an efficient way."
Efficiency means saving time and getting the most things done in the time you have.
However, the progression is as follows: If you want to have a successful life, each thing you do needs to be successful. So if you have ten tasks and you can only get two of them done successfully then get those two done successfully. But if you can be efficient and get three done successfully, then strive to do that. The key is success. Building your life on your successes. Start what you can finish successfully.
3) Thankfulness. Being thankful even when things fail or go wrong. Having a daily thankfulness and building your "thankful attitude" muscles every day.
4) "Faith and Purpose." The ability to see in your minds eye that which is not yet accomplished. It's easy to just accept things as they are. But it takes real strong faith to see things differently and to work towards your dream.
5) Give a greater use value than cash value of what you take."
6) The "Creative Mind" is NOT the "Competitive Mind." Do not fall into the narrow minded trap of the competitive mind. The world abounds in opportunity.
.
Part One:
.
The Book "Influence:
The Pyschology of Pursuasion"
.
Thoughts on the book:
.
This book Is an amazing book on the psychology of SALES.
There are Six Principles to this book:
.
1) Reciprication
2) Consistency
3) Social Proof
4) Liking
5) Authority
6) Scarcity 
.
These Six principles will change your understanding of sales forever. Not only will it educate you about how we subconsciously "fall into buying stuff" but it will also show you how to use these principles in an ethical way (instead of using them against people) to create a "win/win" situation.
.
Let me share something with you: these 6 strategies took time and effort to uncover for you. We have made it so easy for you to be able to understand each strategy and to take your own notes on each one. They are all listed in blue above and this will help you to remember each one.
.
These principles are dynamic and have been used by salesmen for generations. Even though once you learn the principles, they are easy to understand and implement, they are also more in depth and complicated to explain then we have time to explain.
.
Having said that, you will get 10x more from reading the book. So that's what we want you to do. First get started now getting a copy of the book or an audible version you can listen when you're in the car. Then continue with Step Sixteen. You will be very happy you read the book and learned these life changing principles. They are crucial to your continued success online. Here is the name and author: 
Influence: The Psychology of Persuasion
by Robert B. Cialdini
.
Part Two:
Let's talk about Four Online Funnels
that will make you money:
FOUR FUNNELS:
1)

GDI Team Elite & Sixteen Steps 
3) A Traffic Funnel 
Important Note about Funnels:
You should be careful to always keep your FOCUS and NOT get too distracted. Work on these funnels in your spare time and make them slowly stronger over time but don't let them distract your main work! 
HOW THESE FUNNELS WORK
1)

GDI Team Elite and the Sixteen Steps 
This the first and should be your primary funnel. Make sure you have your Team Leaders special page with all your links inside. Upgrade to what programs you can and like but don't overdo yourself. In time you will be able to upgrade to more things so just do it in a way that works with your budget. This is the Slight Edge again. Growing stronger a little more each day. 
Eventually your new team will be coming into your website from your team email each week and seeing what you have that's new! 
In addition to sharing helpful things about GDI Team Elite and marketing tips, you can add advertising to your page.
I personally use my main programs banners that you will also find in the Sixteen Steps such as TrafficWave, Buildabizonline etc, but I also use my website to promote helpful traffic and their links and my team store with 10,000 products from Clickbank. 
Clickbank has a great free program called CBProAds which allows you to put all manner of advertising links on your site (you've probably seen mine) and more. They also allows you to have pre-built websites in many popular niches such as health and wellness, online business, fitness, dating etc. These things all should be helpful things to honestly help your team. You will also find yourself making sales when you truly help others. I personally have a "Team Store" on my GDI team website which is where I include this.
The second thing you can do with your GDI website is what Albie calls
"Make Income Sharing What You Love".
The first thing to realize is that GDI allows you to have three subdomains for free with your membership. You can create them easily within the GDI backoffice. Once you have the sub domain website created, then you can start sharing. 
"Sharing what you love" involves getting good at sharing things you really like or "love" on your website or blog and sharing them on social media and building SEO slowly to your page over time. Of course you can go fast too but I would suggest not "biting more than you can chew".
Albie has built a funnel that connects his subject matter on his blog to PLS (as PLS allows you to be very creative and make income with it at the same time). But this is not the only way. You can also connect your blog to any affiliate program you wish including GDI.  
You can find the affiliate program for CBProAds (free) and PLS below.
.
You can take a test run of it here: TEAM LEADERS LINK.
Don't forget to find your team leaders name and click on it to go to their page!
3) Your Traffic Funnel
I realized from two of our team members Dustin, owner of ProTrafficBuilder, and Team Leader Diane Mumm how important it is to have a grasp on referring traffic to others. Traffic is essentially the main ingredient of building a business online and you should have a part in it. Let me share a few specific reasons why: 
It is my theory that 1/4 of the market is tired out from all the false promises and crazy programs that promise making "$250 a day" but really don't deliver. Each quarter of our market is (my theory) as follows:
a) 1/4 is new people trying out business opportunities that look appealing.
b) 1/4 is marketers trying to sell these opportunities.
c) 1/4 is advertisers selling traffic.
d) 1/4 is those tired from all the business opportunities that either don't work or that involve a more advanced understanding of how to sell them.
It is also my belief that

GDI Team Elite's target market

is the 1/4 that are tired out from all these crazy offers. So if you can reach more than 1/4, you will have more subscribers. You may not get more GDI Team Elite members than your actual target market but you might get additional traffic sales in addition to the normal members you get from your GDI Team Elite email campaign. 
.
A while back my mentor was explaining marketing and the pit falls a team often falls into by teaching only one method of advertising until the market is saturated with those ads. This creates a loss of subscribers and sales. So it is our hope to help you have the tools you need to be more rounded in your advertising approach. 
So in our attempt to help you understand traffic funnels better, we want to highlight (our GDI Team Leader) Diane Mumms traffic site Mountain High Mailer (MHM). This site you can obviously use for advertising but it is also a funnel (which I will explain shortly). It is a great safelist and I get somewhere between 12 – 30 hits each time I send an ad with it. Of course, your results may be different then mine. If you upgrade you can even have UNLIMITED mailings (as long as you have enough credits to send the ad). As I am writing this, I have even sent out two ads to 837 members already this morning!
Also Inside MHM is also a downline builder (which is a funnel) and you should make use of every funnel available. You can add your affiliate links inside MHM for such programs as "Safelist Marketing Tactics" (which we explain about further) and Referral Frenzy, BuildabizOnline, and many more! The internet is truly a web of connections and you should make sure you have everything set up and your links added for people who just happen to "wander" onto your site or into your funnel. 
To See MHM's downline builder, simply go to the "Affiliates" Tab and then go down to "Add Your Ref. I.D's" Here is a picture of the Downline Builder inside MHM: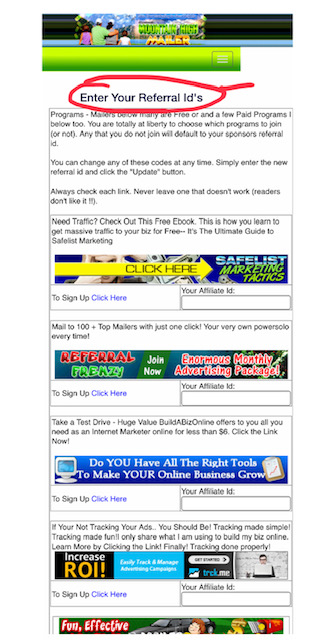 .
We would also suggest filling out your downline builder links inside of FreeTrafficforYou as this site gives great hits and gives a free Pro upgrade and special Activity Rewards for clicking each of the different types of ads on its site. This also is a very effective funnel.
.
.
You can take a test run of them here: TEAM LEADERS LINK.
Don't forget to find your team leaders name and click on it to go to their page!
.
Not only this but if you consider that our whole niche needs traffic, this allows you to reach more people. Advertising for Team Elite Traffic Club allows you to advertise for GDI Team Elite and at the same time reach more people in our niche. It allows you to get more subscribers, potentially get more new GDI Team Elite members and make more money from those only interested in traffic.
Elizabeta and I have been working on Team Elite Traffic Club.

We have also

been advertising the site and had great success with it. 
Here is a picture of one sample ad page: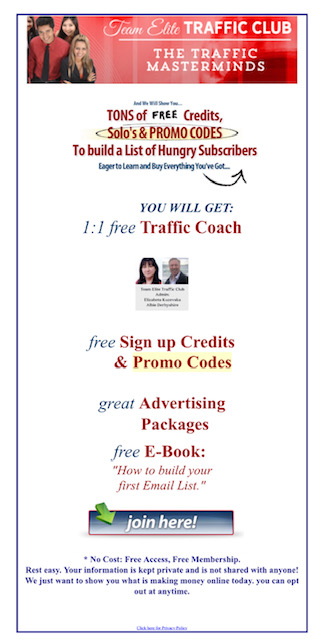 This page is simple and has brought in a lot of subscribers: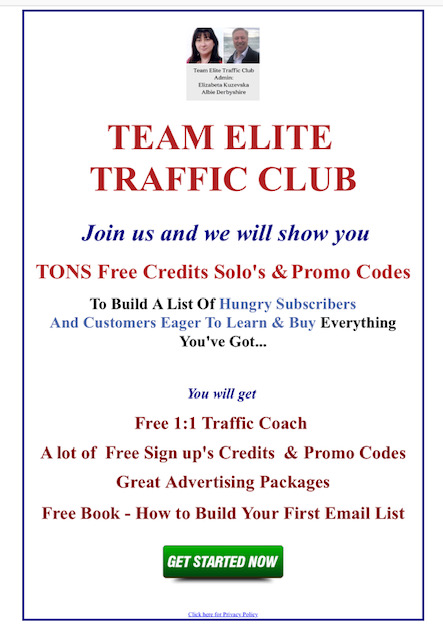 .
You can see your Team Leaders AETC here: TEAM LEADERS LINK.
Don't forget to find your team leaders name and click on it to go to their page! 
Because you have reached Step Sixteen, you may contact Albie or Elizabeta about possibly being
qualified
to have a
"Sister"
T
E

A

M
 E
lite
T
raffic
C
lub.
One reason for qualifying is because we want to keep the sites ratings high because of this need strict guidelines for it.
Also, in qualifying you will be able to work with us and our six/seven figure income mentor in learning how to double or possibly triple your subscribers, double your sales and what it will take to reach six figures more quickly. 
Here are the pages. If you are qualified, you can create your own traffic site name and banner (it has to be different so that each site keeps it unique touch). In addition you will be able to take each page, add the HTML to your GDI web page and connect each of the pages together or have it made completely for you in the PLS funnel. Also we will help you with any problems you might have connecting each page. Please speak with Albie or Elizabeta. You can find their contact info on the team leaders links page or on the linked pages below. 
 You can see below how each of the pages in the funnel looks. The HTML code for each page will be accessible after you speak with Albie or Elizabeta and they give you the HTML password. Click below on the title of each page: 
.
4) Your Ebook. This can be a funnel too with your links inside but it may be a lot of work to create. Another option is to create a SHORT REPORT which has information that you can write to share with others. Here is a sample Report that I wrote so you can see what I mean. The first link is the opt in page. The second is the landing Report. I used PLS to create these pages and funnel: 
Marketing Tips Landing page after they subscribe:
You can also get the PLR rights to an ebook and advertise that. (There are many good PLR books you can use inside the upgraded section of TEP.) This strategy involves finding an effective method giving something valuable to others but connect your capture/squeeze page to TrafficWave or to your autoresponder so that they will get your your GDI Team Elite emails. This will still allow you to get new members to your team.
One such ebook that has great value and also is a great funnel that you can make income from too is the ebook by Jerry Iannucci (owner of "Mister Safelist) called "Safelist Marketing Tactics". It's free to read. Enjoy!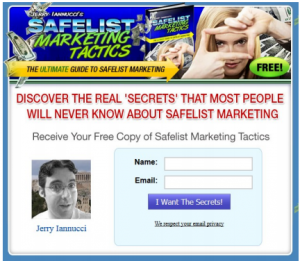 .
You can take a test run of it here: TEAM LEADERS LINK.
Don't forget to find your team leaders name and click on it to go to their page!
.
Conclusion of this section:
I hope this has given you some good ideas on building your GDI Team Elite business and eventually increasing your influence and reach with all your funnels.
.
Don't forget the bigger income that six and seven figure income marketers earn are on the back-end of their funnel.
.
The beginning of the funnel is usually a free offer or something of value to bring people into your funnel. This is similar to a store offering a "get 1 free" coupon to come visit them. But the higher priced items are in the store and it is the sale of these items that keeps the store "afloat".
.
Part Two:
Let's talk about what happens when a new prospect asks you: "How much do you earn?
This question is loaded because it assumes that unless you are making a lot of money it's not worth their time to join you. This is of course a false conclusion. Here is some more info about this:
Sometimes I get this question and it's much easier to answer these days but my team sometimes don't know what to say so I wrote them a special article to give to people like this. Send it to them and have them read it and tell them you will respond after they read it. This will help you a LOT! Here's the link to this article. Keep this link handy.
PLEASE TAKE THE TIME TO READ THIS IF YOU HAVEN'T ALREADY! (It's only one page). 
.
Part Three:
Let's talk about what happens
after the Sixteen Steps:
1) Steps To Six Figures:
The reason we encourage you to join your leaders "Mentors Program" is because joining this will allow each team leader to go full time with their business much faster.
.
To those who have joined your leaders "Main or Mentor" program, we want to help encourage you to strive to earn six figures with your GDI Team Elite business and the Sixteen Steps funnel.
.
We will be there to help encourage you to keep pushing forward to grow personally and in your business, make your emails and autoresponder your priority and getting your subscriber list into the thousands. The goal is to have a big mailing list that will earn you a full time income.
.
We also have a team newsletter that comes out each month and will encourage you to work, plan and aim towards your goal of earning six figures a year with your online business. Again you will only receive this newsletter if you complete the Sixteen Steps and join your team leaders "Main" or "Mentor" program. 
.
2) Personal Development:
Each day you should take the time to grow better and stronger and build your dream. The Steps To Six Figures newsletter will also encourage you to keep growing better and working on personal development. 
.
3) Growing Your GDI Team Elite Team.
This is just a simple reminder to not give up! Things of value happen with persistence, passion and by not giving in. You CAN achieve your dream! Remember how important duplication is in achieving this.
.
I hope you have found these Sixteen Steps helpful! If you have make sure to pass these on to your team and mentor your new members through each Step.
.
Do NOT just give them the password if they say they have completed the Step. Make sure you go over the ending assignments with them so you know they are taking the time to really learn.
.
Many of these Steps took years and years for us to learn and if you just read them and let them go in one ear and out the other, you will most likely not do well.
I remember very clearly driving 30 minutes twice a week and paying $10 each time to attend business meetings to learn and watch my six and seven figure income mentors teach and practically show us many of these principles. We then had to use them in real life to learn how to be effective with them. This is not even mentioning the $1000's of dollars in classes, books, learning and costs of working and being mentored by top earners. 
.
PLEASE take the real amount of time you need to learn what you should and if for some reason you were in a rush to get through these steps, take the time and go back over them to reinforce your knowledge. 🙂
.
.
Now take the time to share with your team leader what you learned:
1) What effect does the 12 Pillars have on your idea of continuing growth? Do you plan on reading the 12 Pillars in the future? 
2) What does "Doing things in a Certain Way" mean to you?
3) What were your thoughts about the book "Influence: The Psychology of Persuasion?
4) What ideas do you have after having read about each of the funnels? 
.
Congratulations on

finishing

the Sixteen Steps!
You made it! 
.
.
To your success!
Your Personal Team Leader
&
~Albie Derbyshire 

& 

Elizabeta Kuzevska
GDI Team Elite Leaders
.
Marketing Team:
Albie Derbyshire,
Elizabeta kuzevska,
Krishna Narasimhan
John Vance
Diane Mumm
.
Copywritten by Albion Derbyshire and Elizabeta Kuzevska 2018 & 2019
No authorization to use or copy original material within the Sixteen Steps without permission.
The only exception is unless the material is originally owned by a different author.
Our contact information and address:
.